Zandra Haynes is a NPC character representing the interest of the Lunar Excavation Corporation refugees.
Description from Anno 2205 Facebook Page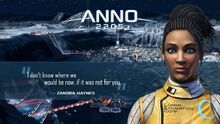 Age: 36 Affiliation: Lunar Excavation Corp (Global Union)
When the Orbital Watch seized control over LEC colonies on the Moon, Zandra was employed as a convoy driver. She couldn't stand for their heinous crimes in the name of freedom and has since been using her trucking skills to smuggle refugees and coordinate a resistance network. Being a Moon native, she feels an obligation towards her fellow moon dwellers and she wouldn't abandon them for the world.
Ad blocker interference detected!
Wikia is a free-to-use site that makes money from advertising. We have a modified experience for viewers using ad blockers

Wikia is not accessible if you've made further modifications. Remove the custom ad blocker rule(s) and the page will load as expected.