The Council runs on major issues related to the story; players may vote for certain Characters on the council, refuse or accept bribes, or abstain all together. Each vote impacts the game-wide bonuses applied, with candidates who receive more votes having a greater bonus. Bonuses are reset and re-tallied after each voting period ends.
The Mysterious Woman appears to in the Council screen, but her role is unknown.
The five members of The Council are the Big Five, as well as the companies they represent and their fields of expertise, which are related to the bonuses earned when players vote for them.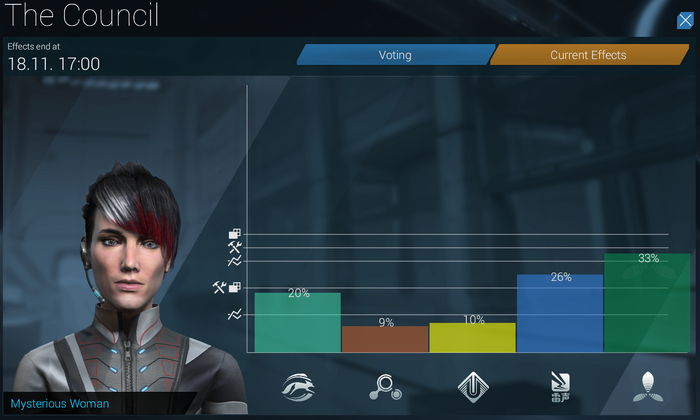 The results of the last voting period effect the bonuses, shown above, that are applied to all players until the next vote is tallied.
Ad blocker interference detected!
Wikia is a free-to-use site that makes money from advertising. We have a modified experience for viewers using ad blockers

Wikia is not accessible if you've made further modifications. Remove the custom ad blocker rule(s) and the page will load as expected.