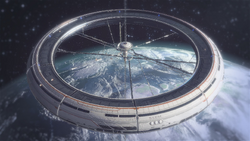 The Space Station is the structure in orbit around Earth where various factions and organizations reside. The space station can be seen in the bottom right corner when looking at the strategy map.
There are currently five actions you can take on the space station which can help your corporation become succesful.
On the side of the space station you can see the letters S.LEM, this could be a reference to Stanislaw Lem whom was a writer of science fiction, philosophy, and satire. His works explore philosophical themes through speculation on technology, the nature of intelligence, the impossibility of mutual communication and understanding, despair about human limitations, and humanity's place in the universe. They are sometimes presented as fiction, but others are in the form of essays or philosophical books.
World Market
See World Market for full details.
Form the World Market you can establish trade routes to buy or sell Goods.
Assignment Center
See Campaign for list of quests.
From the assignment center you have an overview of the campaign missions that revolve around the Lunar Licensing Program. Your assistant in the assignment center is Sam Beaumont.
Docks
See Docks for full details.
From the docks you have an overview of your Fleet, as well as displaying your current Military Level. Your assistant in the Docks is John Rafferty.
External Resources
See Anno 2205: Asteroid Miner for full details
From the external resources window you can retrieve resources collected in the Andoid/iOS game.
The Council
See The Council for full details.
From The Council window you can vote for the various Corporations which will earn you powerful modules and sometimes rare resources.
Ad blocker interference detected!
Wikia is a free-to-use site that makes money from advertising. We have a modified experience for viewers using ad blockers

Wikia is not accessible if you've made further modifications. Remove the custom ad blocker rule(s) and the page will load as expected.