This page is a stub. You can help the Anno 2205 wiki grow by contributing to it!

Please remove this stub box once the page is set up and growing.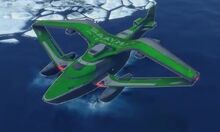 Saayman International is one of the members of the Big Five, specializing in agriculture and food. It's represented by Emem Buhari, who can provide you, the player, various quests and a sector project.
There is hardly a company out there that is held in higher esteem than Saayman International. From a small conglomeration of farming enterprises, Saayman grew into a food giant that now provides considerable percentage of the global population with their daily bread. Thus, Saayman has become a world power in its own rights and the corporation's ambitions are political, as well as economical.