"The small-scale materia printer." - Anno 2205 Game

Replicators are a commodity coveted by both Investors and Scientists that require Earth resources to build. The factory is compact and can attach up to six adjacent factory modules called Nuetronium Generators.
Replicator Factory (8 x 5)
Output:
8 Replicators
Input: 2 Microchips, 6 Multispec Prisms
Cost
Credit: 60,000
Materials: 8 Superalloys, 12 Biopolymer, 15 Construct-O-Bots
Maintenance
Credit: 3,500
Workforce: 420
Energy: 400
Neutronium Generator (5 x 4)
Output:
4 Replicators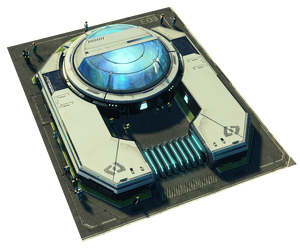 Input: 1 Microchips, 3 Multispec Prisms
Cost
Credit: 7,500
Graphene: 5
Maintenance
Credit: 875
Workforce: 105
Energy: 100
Ad blocker interference detected!
Wikia is a free-to-use site that makes money from advertising. We have a modified experience for viewers using ad blockers

Wikia is not accessible if you've made further modifications. Remove the custom ad blocker rule(s) and the page will load as expected.