Pharma Lab

CONSTRUCTION
7,500
5 Metal Foam
CONSUMPTION
Deep-Water Corals
2
PRODUCTION
Stimulants
2
PRODUCTION USED FOR
?
MAINTENANCE
120
10
20
Stimulants are a a required commodity for Scientists in the Arctic regions of Anno 2205. The factory that makes the stimulants is small in comparison to other Arctic buildings, but requires a lot of input resources to maintain a balance and can have up to six adjacent production modules called "Enrichment Containers"
Pharma Lab (6 x 3)
Enrichment Containers (3x3)
Output: 1 Stimulants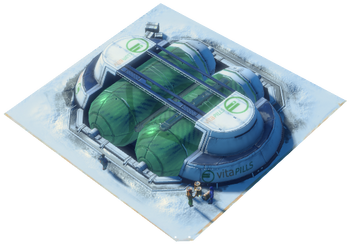 Input: -1 Deep-Water Corals
Costs
Credits: 900
Ad blocker interference detected!
Wikia is a free-to-use site that makes money from advertising. We have a modified experience for viewers using ad blockers

Wikia is not accessible if you've made further modifications. Remove the custom ad blocker rule(s) and the page will load as expected.