This page is a stub. You can help the Anno 2205 wiki grow by contributing to it!

Please remove this stub box once the page is set up and growing.
The KREEP Gatherer is a lunar rock scoping vehicle that mines KREEP : Potassium (chemical symbol K), Rare Earth Elements (REE), and Phosphorus (chemical symbol P).
Gallery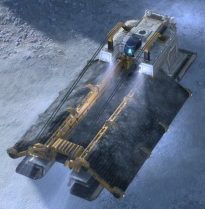 Ad blocker interference detected!
Wikia is a free-to-use site that makes money from advertising. We have a modified experience for viewers using ad blockers

Wikia is not accessible if you've made further modifications. Remove the custom ad blocker rule(s) and the page will load as expected.