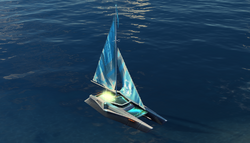 The Command Ship is a special-purpose, indestructible ship given to the player at the beginning of each playthrough. The ship, which bears a distinctive design, is used to claim areas within each region's sectors, as well as to complete assignments given by NPCs.
Anno 2205's command ship is the first one not be usable in combat, unlike in previous installments of the series. It is also the first one to include a unique design, resembling a Trimaran. A second design resembling a Catamaran is available to those who pre-ordered the game.
The role of the Command Ship is fulfilled by the Expedition Rover in the Lunar sectors, given the lack of navigable waters on the Moon's surface.
In the tundra DLC exclusive sector, the command ship is replace by the command aircraft.
The game's Orbital expansion will also feature it own unique Command Ship, which is yet to be revealed.
Ad blocker interference detected!
Wikia is a free-to-use site that makes money from advertising. We have a modified experience for viewers using ad blockers

Wikia is not accessible if you've made further modifications. Remove the custom ad blocker rule(s) and the page will load as expected.